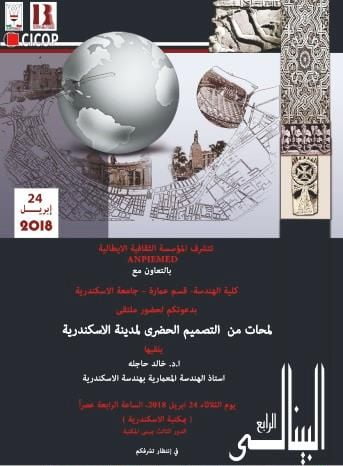 The seminar was organized under the supervision of Prof. Kaled Hagla with a group of young researchers where they present three Highlights of ALEXANDRIA urban design as following:
Identity : Mansheya Square
               Arch. Sara Magdy
The city of Alexandria has been known for its diverse cultures and identities for millenniums, which can still be traced to this day in many layers of history. In the heart of Alexandria's European center is El Mansheya square, the oldest, most important urban place in this cosmopolitan city. This presentation is, thus, an attempt to understand Alexandria's identity formation and transformation, through focusing on El Mansheya square, as being one of the most vital urban squares in the city.
Distinctiveness: Foad Street
          Arch.Omnia El Hossary
In Alexandria, our streets are rich with built, natural and cultural unique characteristics. Forming places we know when we are in them, with qualities that are only related to our local conditions.
This has been termed Local Distinctiveness, and on this our discussion is focused to identify and grow the characteristics that are capable of performing a leading role in recognizing a place.
Vitality: Al-Atareen Street
Arch. Yasmina Youssef 
Alexandria is among the cities that face the problem of using other commercial paradigms instead of the traditional commercial street. This lead to deterioration of vitality in the city's streets.The four objectives of the presentation are- clarifying the meaning of vitality in commercial streets; Highlighting the different visions for vitality,Understanding How can a
Commercial street reach the state of vitality,and Pointing how far is Alattarine mosque street from the state of vitality.
Interpretation: Turkish Town
Gehad Aly
Interpretation is the work of revealing meanings that lie behind what the tourist can with his senses perceive.  The Turkish Town -a historical part of the City of Alexandria – retains many values that have the potential to convey a deeper understanding and appreciation through planned and designed interpretation. Thus, this presentation tackles different strategies to develop an interpretive experience and how to apply this approach to the Turkish Town.
Social Cohesion – Latin Quarter
               Arch. Aliaa Megahed
Alexandria city has witnessed conversions in the urban and social form throughout the past decade caused by political and economic change.In order to detect the sustainability of the Alexandrian community bearing this transformation, different parts of the Alexandrian urban fabric is observed. The Latin District is selected due to its minimum transformation in its architectural and urban fabric. Therefore it scored signs of community sustainability through a slightly higher social cohesion value.
Sense of Community – Kom El Dikka
               Arch. Pakinam Ashraf
In Alexandria, many evidences on the decreasing quality of neighborhood could be cited. Several researchers have proofed that the decrease of built environment quality influence the level of sense of community. This presentation focus on examining the relation between sense of community and built environment, history of neighborhood, socio economic level in Kom el Dikka. This neighborhood is distinguished with its unique character, rich cultural and artistic history and represent a positive example of participation.
                Arch. Ayat Ayman
It has been clearly observed through the last few years that almost all people in Alexandria increasingly use digital devices connected to the internet. ICTs have spread extensively in everyday life in an unprecedented way. With the immersive invasion of internet as well as smart phones' applications and digital social networking, people become more socially connected through virtual spaces instead of meeting in physical public spaces. Thus, this presentation aims to find the ways of implementing ICTs in Alexandria's public spaces to regain their status as attractive places for people, incite meetings in real life and create lively city centers.
Virtual reality – Kafr Abdou
               Arch. Manar Talal
The future of urban design practice in Alexandria will depend on a better appreciation of what can be done with the Virtual Reality technology. A profound new development has taken place in this field, which requires a better understanding of the tools' potentials. A presentation will be illustrated showing the outcome of fully immersing people in a virtual walkthrough of Allenby Park, Kafr Abdou besides comparing it with walkthrough the real space.