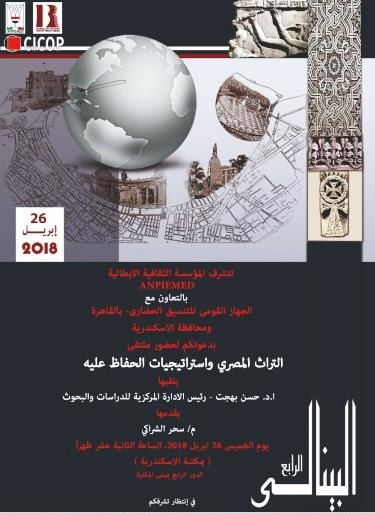 The forum was a good occasion to assemble several parties as the National Organization for Urban Harmony, Fine Art faculty– Architecture Department, United Co and Alex Med study center, to present and discuss the strategy of the National Organization for Urban Harmony to conserve and preserve the Egyptian heritage. Also there was a session where the participants discuss the results of the workshop that was held in March 2018 about the Heritage Guide (issued 2017) in Alexandria city. 
It was mentioned that the Workshop team (Local government authorities Engineers; executives engineers) was glad to be able finally to present his executive complaints that they usually faced through applying the approved policies; of the Heritage Guide, so they have settled the recommendations that achieve their targets to conserve Alexandria heritage.
To transform  this theoretical recommendations to the realistic phase; it was necessary to invite more sectors who has tangible heritage building to maintenance from the city heritage, like the United Co., one of a big real state companies in Alexandria which own a lot of the heritage buildings in down town.
The forum participants were more efficient to conclude realistic recommendations, which would be reflected on the policies makers who received it to apply later. And all participants have agreed to co-operate for settling a feasible plan as pilot project as starting for integration between heritage conservation and heritage building owners to protect their business.